UPDATED: Interview With Film Host: New Documentary "SCHOOLHOUSE ROCKED: The Homeschool Revolution"
New Documentary on the Rise of Homeschooling in America – SCHOOLHOUSE ROCKED: The Homeschool Revolution – Released November 12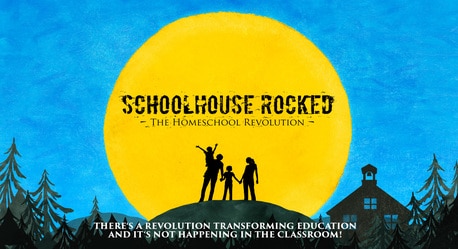 Franklin, TN – There's a revolution transforming education, and it's not happening in the classroom. The new feature-length documentary, SCHOOLHOUSE ROCKED: The Homeschool Revolution, examines the incredible growth of homeschooling and why millions of families across the country are choosing this path for their children's education. The premium streaming release of SCHOOLHOUSE ROCKED was launched on November 12.
"Homeschooling is transforming education across the country," shares Host and Producer Yvette Hampton. "Families are finding freedom, children are receiving exceptional education and opportunities, and parents are able to rest easy in knowing first-hand that their children are being taught lessons that align with their values and beliefs."
"This is not an exaggeration to say, this is the movement that is needed to save this country."

– Rick Green, WallBuilders
SCHOOLHOUSE ROCKED follows Yvette and her family as they travel the country interviewing education experts, curriculum developers, college and university faculty and administrators, and homeschooling families at every stage in the process, from kindergarten to college graduation and beyond. Viewers follow Yvette's progression from strong opponent to homeschooling, to reluctant homeschooler and first-time teacher, to outspoken advocate for this growing education revolution. Along the way, viewers share in her challenges and victories, and gather the necessary resources and encouragement to homeschool with excellence.
The film features interviews with homeschooling families, as well as scholars, faith-leaders, and homeschooling advocates, including Sam Sorbo, Dr. Carol Swain, Heidi St. John, Zan Tyler, Josh Tolley, Ken Ham, Brian Osborne, Nanette and Rod Brown, and Israel Wayne. Also featured are prominent homeschooling organizations including, Classical Conversations, Homeschool Legal Defense Association (HSLDA), and Homeschool Freedom.
In spring of 2019, there were approximately 2.5 million homeschool students in the US, but by the 2020-2021 school year, that number had blossomed to 3.7 million. Traditionally, these homeschool students typically score 15 to 30 percentage points above public-school students on standardized academic achievement tests.
Yvette continues, "I believe the pandemic showed many parents the truth of what their children were learning in a traditional classroom setting. It also proved that they were capable of not only homeschooling, but of offering their children a far better education than what they were receiving previously."
"We believe homeschooling is critically important if we are to save our republic and the Christian family and church."

– Kirk Cameron, Actor and Producer
SCHOOLHOUSE ROCKED was created for homeschoolers, by homeschoolers. Yvette and her husband, Garritt began sharing their story on their popular weekly Schoolhouse Rocked podcast. Garritt, a movie industry veteran (INTERSTELLAR, FURIOUS 7, TRON: LEGACY) felt compelled to harness the power of film to share their family's story, and the documentary was born. The Hamptons have been homeschooling their daughters, Lacey and Brooklyn, since 2011 and have experienced firsthand the exceptional opportunities it offered both for the girls' education and their family as a whole.
Yvette confides, "We sold our house, loaded up in a motorhome, and traveled the country for three years to tell this story. We wanted to create a project that would encourage families that aren't yet homeschooling to dive in. So many families we've met in our travels have said they are curious about homeschooling, but don't have any idea how they can make it work in their lives. By breaking down the misconceptions and negative stereotypes about home education, encouraging new homeschooling families, and equipping families to teach with excellence, we expect this film to have a multi-generational impact and to fuel the next wave of the homeschool revolution."
Interview w/ Yvette Hampton of SCHOOLHOUSE ROCKED: The Homeschool Revolution
For more information and to screen the film beginning November 12, please visit https://schoolhouserocked.com.