Now Your 5-6 Year Old Can Color His / Her Way To "Good Health" ..
I have the honor of introducing a new book and a remarkable "piece of art" written by Renee Grace: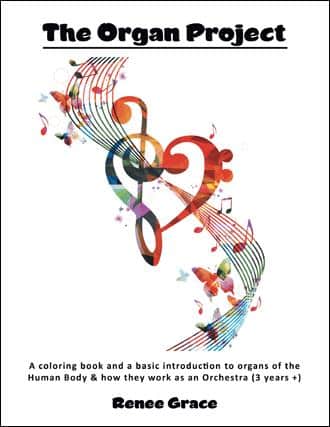 The Organ Project is a keepsake coloring book written for children,
Ages up to 5-6 years old are the formative years:
The Goal is to give simple explanation of their body, organs and food to eat to be healthy, while instilling a curiosity in children about their bodies as an asset and their value as a human being.
The Organ Project starts out with a fiction story of a 5-year-old curious child who didn't get enough sleep and ended up with a heart condition.  Jordan hated being sick and no energy to play.  Jordan was ambitious and decided to learn about the body, went to the library & started a project, naming it The Organ Project.
Further sections depict pictures, descriptions, the function as well as good foods to eat and pictures to color of the various organs.
At the end of the book there are pictures to color of vegetables, fruits and proteins that kids are sure to enjoy while all along learning the health benefits of a well-balanced diet.
IN THE STORY:
Then!  Jordan got better after getting enough sleep and eating GOOD FOOD!!
This is an Interactive Coloring book.  A venue for Parents, Aunts, Uncles, Grandparents, Sisters, Brothers, Friends, and extended families to interact with their future generations, teaching and learning, while having fun! Nurturing relationships in families is extremely needed in our busy society and coloring is a fun way to learn.
Wouldn't it be great to see society and our future generations – globally – to be healthier, stronger, smarter and financially wealthier with less medical bills.
The Organ Project is available in Spanish and will be in Russian by end of October.
It can be ordered through Authorhouse.com – We highly recommend it!