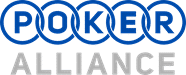 I love to play poker.
When I was younger we'd have home games. I've also played in bars and casinos.
But like most, my favorite is at home online in front of the computer.
I don't do it often anymore because I'm frequently too busy, but its very enjoyable when I want to kick back and take a break.
I was inspired by these WORDS from POKER ALLIANCE (Formerly PPA):
Poker players deserve to be able to play poker – in a neighbor's backyard, at a casino, online, in their home state or when traveling within the U.S. or abroad. We're players too. We're going to fight for our right to play and we hope you will continue to join us.
The transition from the PPA to Poker Alliance means a few changes. First, we will no longer be taking donations from players: we will be supported by the larger poker community and industry participants. Second, Poker Alliance will have a robust government relations presence at the federal and state levels. But we do need your voices, otherwise, the legislators won't hear us. We need every player to join us, and in the coming months we'll need your support telling your friends of our efforts, spreading the message via social media, and reaching out to elected officials.
It seems they are changing their name & some of their policies, and we will be following closely.
If you have any questions you'd like to direct at The Poker Alliance, Visit The FAQ.